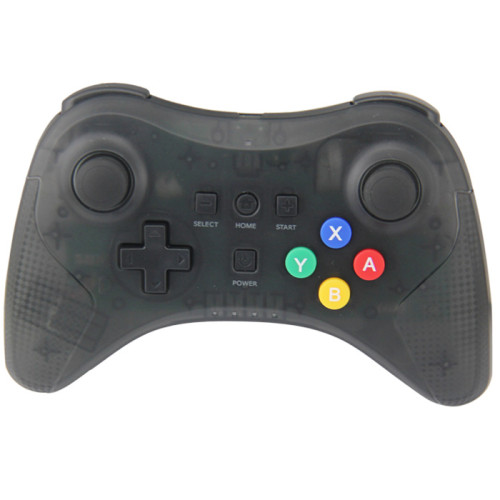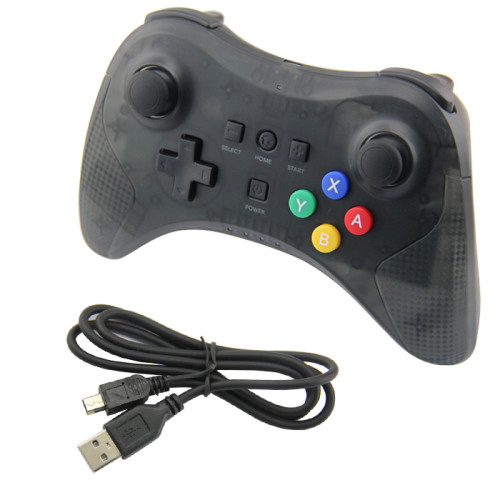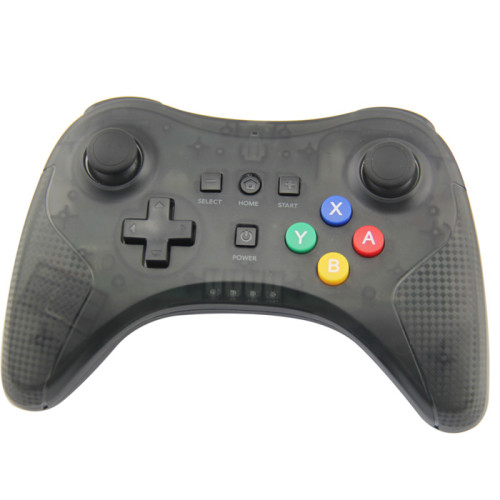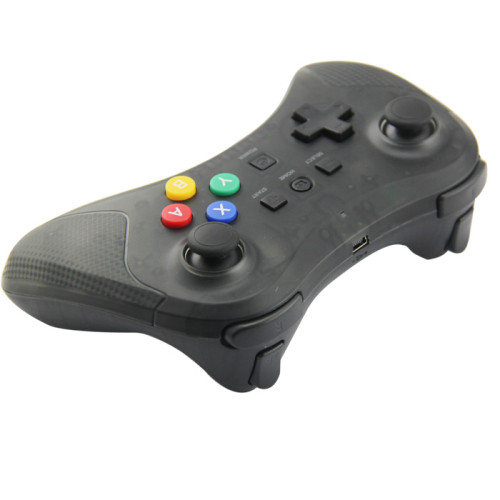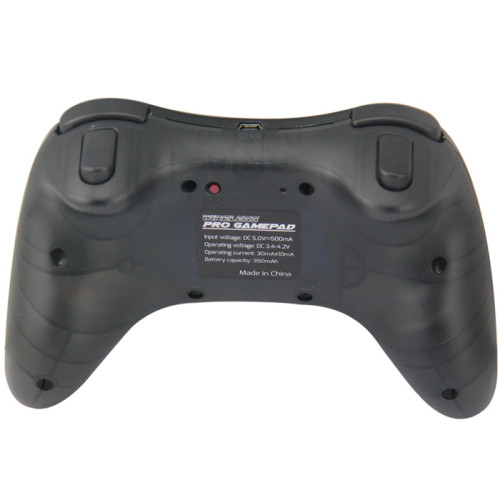 Wireless Game Controller,Bigaint Black Classic Gamepad Joypad Remote for Nintendo Wii U Pro
Item specifics
Function:

Play Games
Color:

Black
Quality:

Excellent
Place of Origin:

Guangdong, China (Mainland)
Package:

No
Product name:

WII U WIRELESS GAME CONTROLLER
Connect:

Wireless
Type:

Gamepads
Description
Product Featrues
1.This gamepad is compatible with WII U console,WII console isn't supported.
2.Wireless Bluetooth connection between this gamepad and WII U console,stable signal without lag or drop with in 8 m effective control distance.
3.Drive is not required to be installed,connect this gamepad to a WII U console then synchronize,thus the gamepad can be used.
4.This gamepad supports all the functions of the original WII U Pro controller.
5.Built-in with one motor supporting vibration force feedback function.
6.Built-in with 350mAh lithium battery supporting continuous gaming up to 10 hours under fully charged.
7.Built-in with four LED channel indicators assigning players according to connecting sequence.
8.Up to four gamepads can be connected to a WII U console simultaneousely.
9.Ergonomic design makes it comfortable even for long hours of continuous gaming.
10.An extra USB charging data cable is attached with this gamepad for charging purpose.
Button Function Description
1.D-Pad:Up,Down.Left and Right.Accurate operating on eight directions.
2.Function buttons:A,B,X and Y.Buttons are sensitive and prompt controlling the character's actions in games.
3.Left Stick and Right Stick:LX,LY and RX, RY.Control character's movement and entire screen direction.Can be operated precisely on 360 all-round.
4.Shoulder and trigger buttons:L,ZL,R andZR.With quick response function.
5.HOME button:Short press on it to return to main screen;long press on it to display multiple optional modes.Gamepad for WII U and controller for WII can be set with it.
6.SYNC button:SYNC.Press on the SYNC button to synchronize the gamepad and WII U console.
7.Reset button:RESET.It's in the hole on the back of the gamepad,press on it and wait for 2s to reset the gamepad.
8.Power button:POWER.Long press on it for 5s to power off the gamepad or console.
9.Wake up buttons:D-Pad,A,B,X,Y,+,-,SYNC and POWER.Press on any of them to wake the gamepad up.
Connecting Instruction
1.Press on the POWER button once on a gamepad to check,if the four LED channel indicators don't flash,it means that the gamepad has no power,please charge the gamepad at first.
2.Power on a WII U console and connect related deivces such as monitor etc.
3.Power on the gamepad by pressing on the POWER button once,the four LED channel indicators will be blinking quickly.
4.First press the red SYNC button on the front of the WII U console then press the red SYNC button on the back of the gamepad for synchronixzing the both.One of the four LED channel indicators will be solid bright in the gamepad it.
Note
1.If a gamepad battery can't be recharged,probably the battery is locked(When a battery drained or idle for a very long period, the battery would be locked automa-tically for protecting the mother boary inside the gamepad).Press on the RESET button once and wait for 2s then charge it again.
2.The charging indicator lights orange during chatrging,it will be off after fully charged.
3.Unless a gamepad battery needs to be replaced or checked , otherwise please don't open the battery cover.
Parameters
Item Reference Value
Input voltage/current DC 5V/500mA
Operating voltage DC 3.4-4.2V
Operating current 20-40mA
Vibrating current 50-100mA
Static current 50-300uA
Battery voltage/capactiy 3.7V/350mAh
Working distance <8m
Charging time 2-3h
Dimension 42*41.6*32.7mm
Net weight 240g
NOTE:The above parameters are references only,they are subject to actual product,the actual voltage and current should not exceed the above reference value scope.
Precautions
1.Please don't store this product in damp or high temperature place.
2.Do not knock,beat,pierce,or try to disintegrate this prodct so as not to damage it unnecessarily.
3.If unauthorized and non-professional personnel dissembled this product and caused damage,this product is not within th scope of after-sales sarranty.
4.Don't charge the gamepad near fire or other heat sources.
5.This product is with battery built-in ,please don't discard it with garbage.